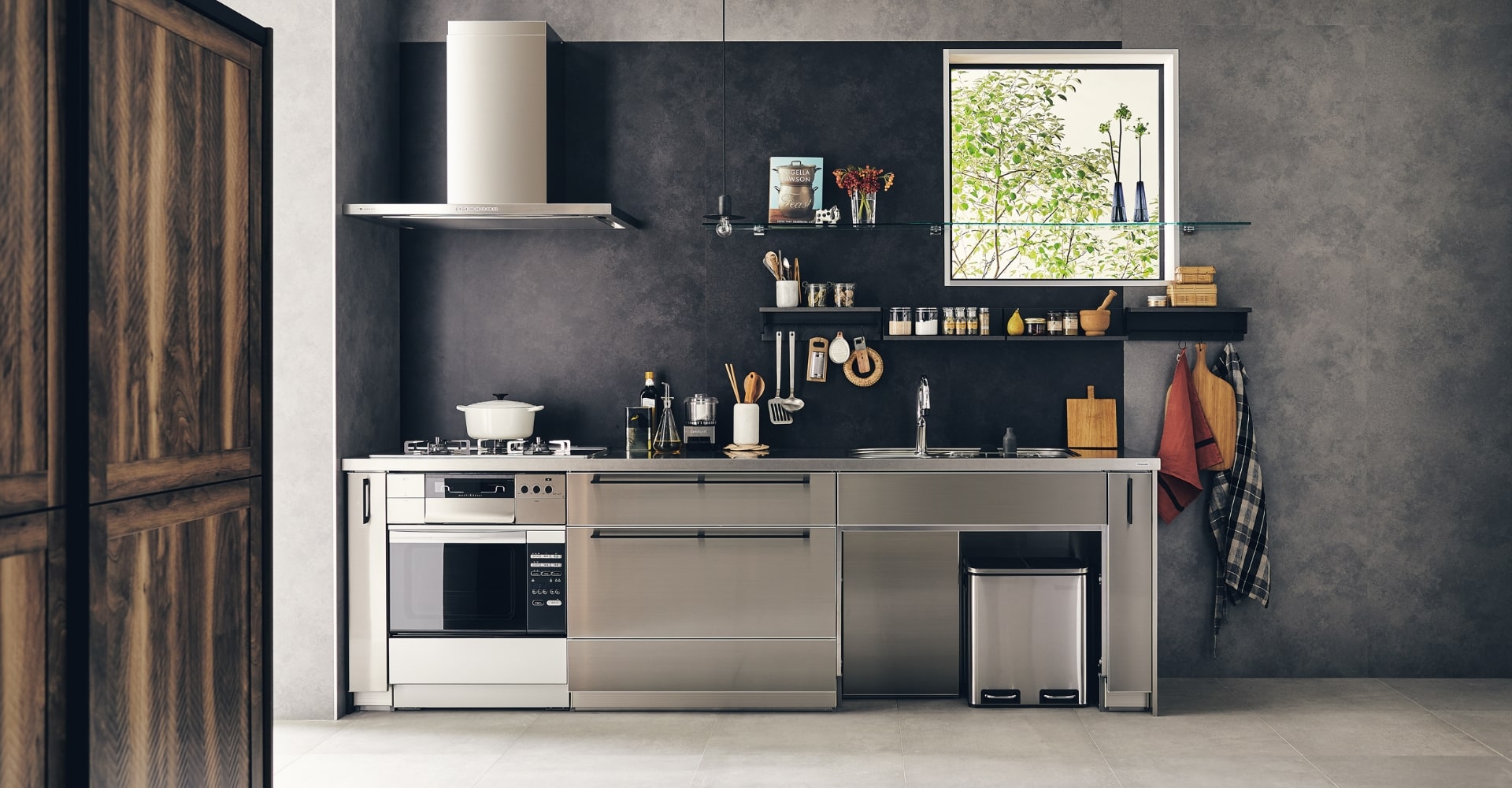 Eco- Friendly
Stainless Steel Cabinet
Supporting your "Effortless"
An original island kitchen with openness, where you can hide items around your hands perfectly at the same time.
Colours & materials freely available
The two Dual Top countertops, as well as the doors and side panels, can be freely coordinated.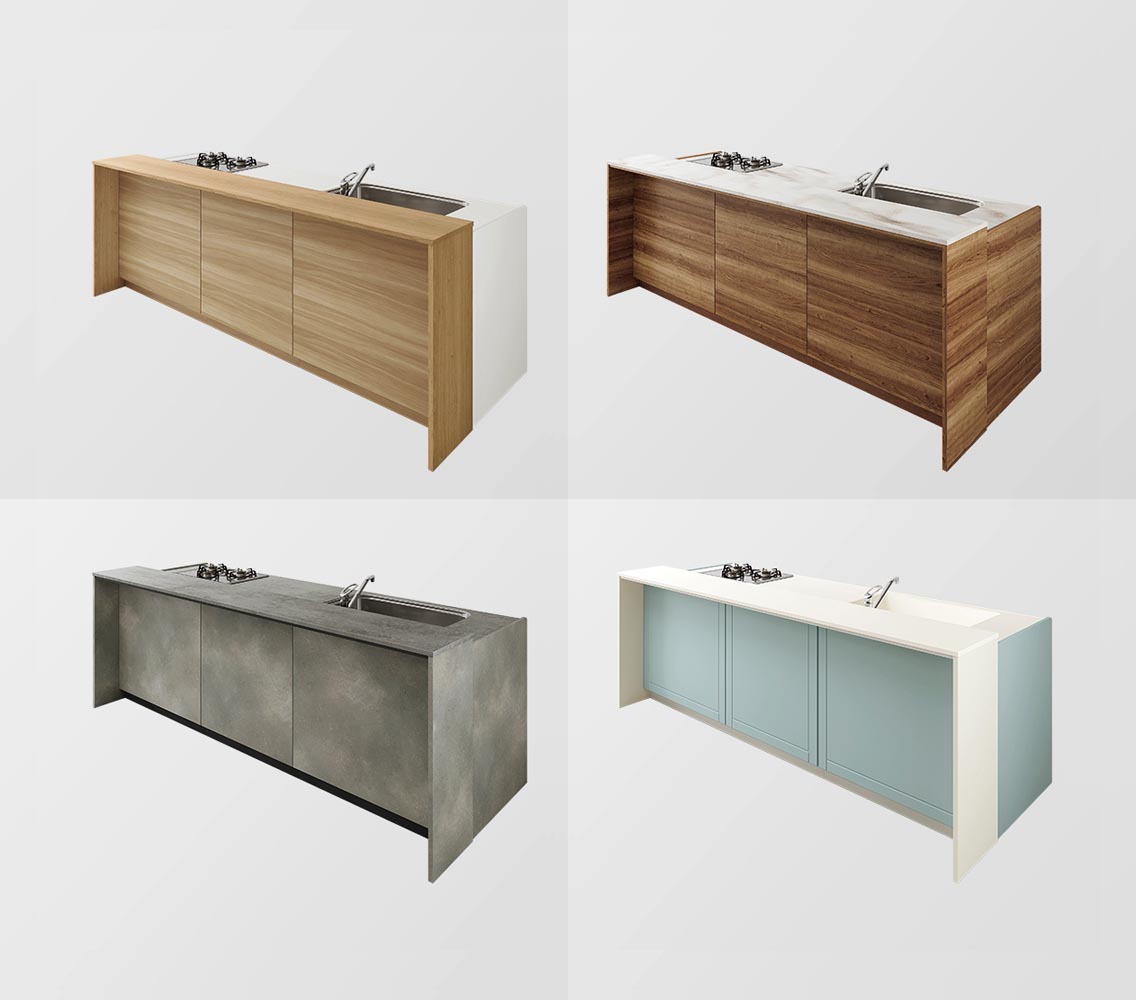 Ra
ises dirt with hydrophilicity
A special coating that easily blends with water allows water to easily penetrate under stains and lift stains from the stainless steel surface.
oil stains are floated & cleaned
Even tough grease stains can be removed with just a quick wipe with a wet towel. Maintains the countertop clean.
oil stains are floated & cleaned
Even tough grease stains can be removed with just a quick wipe with a wet towel. Maintains the countertop clean.
"Waterway Structure" of the
stream flow sink
Working with gravity to induce better water flow.
Garbage is moved naturally towards the drainage with water used during cooking.
The new concept of "Waterway Structure" makes it easy to wash and difficult to get dirty.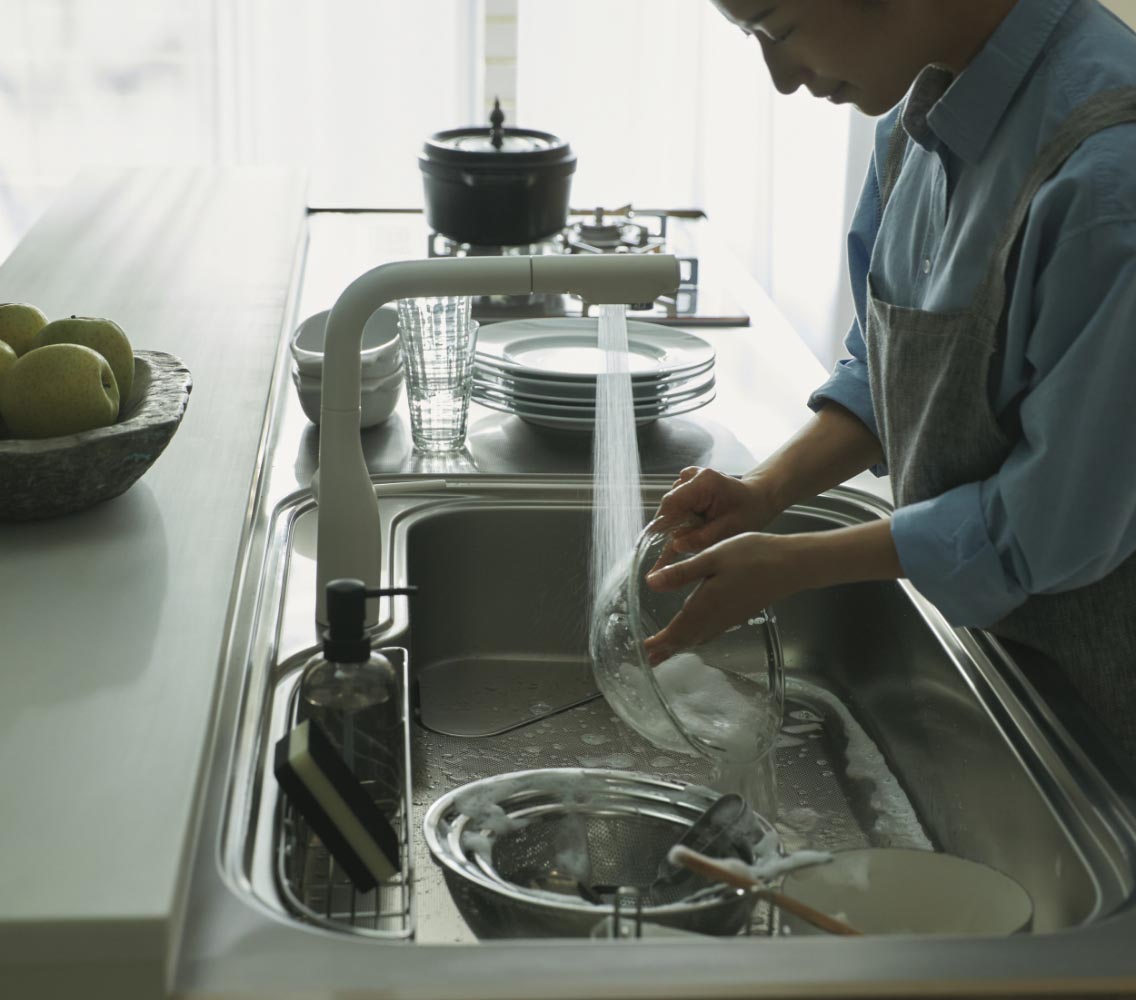 GARBAGE THAT IS USUALLY SCATTERED WILL BE GUIDED ON A RAIL.
AREA NEAR THE COOKING SPACE WILL NATURALLY REMAIN CLEAN WHILE COOKING OR WASHING THE DISHES
Seamless drainage
The drainage where dirt is usually accumulated is integrally molded into the sink instead of welded.
The seamless design allows you to clean smoothly.
Even the drainage basket is integrally molded
The drainage basket, which catches waste and tends to accumulate dirt is also made of integrally molded stainless steel.
Since the e-Coat is applied just like the sink and drainage, it makes it easy to clean and maintain.
E-COAT IS APPLIED ON THE ENTIRE SINK
The entire surface of the sink, including the drainage, is treated with e-Coat.
The entire sink will be kept beautiful.
Grease will be removed with water only.
Just like the countertop, a special coating that absorbs water easily is applied.
It lifts dirt from the stainless steel surface and makes it easy to move.
QUICK AND EASY

Frequency used seasonings and cooking utensils can be taken in and out easily by slightly pulling out the Tool Pocket.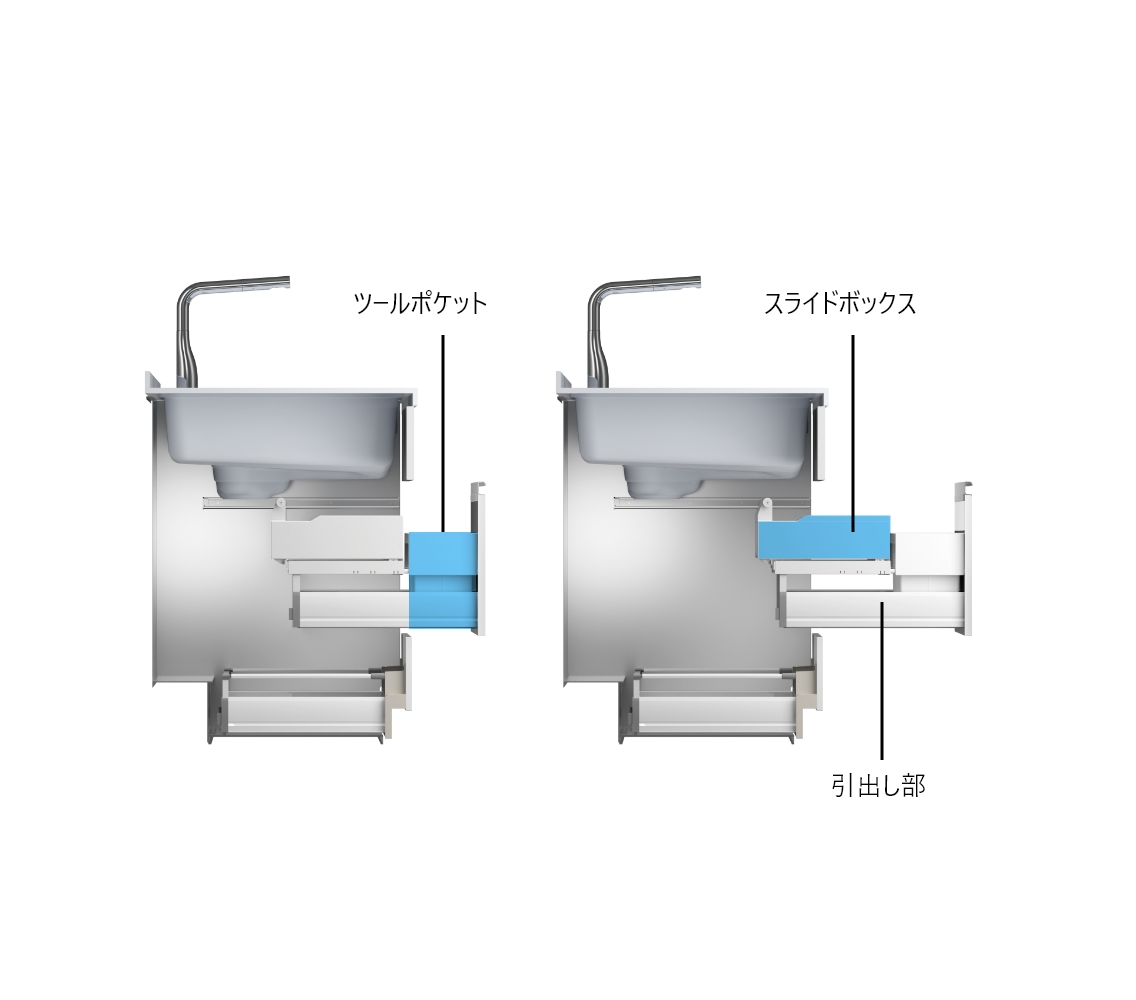 TOOL POCKET + SLIDE BOX
Frequently used items go into the Tool Pocket.
The second most frequently used items are placed in the Slide Box.
Kitchen storage with ultimate efficiency.
3- DIMENSIONAL STORAGE WITH MATCHING HEIGHT
Items can be stored and organized depending on the height and without stacking them in the Slide Box.
SLIDE PANTRY
Large storage with door face material. You can choose the storage type according to your lifestyle.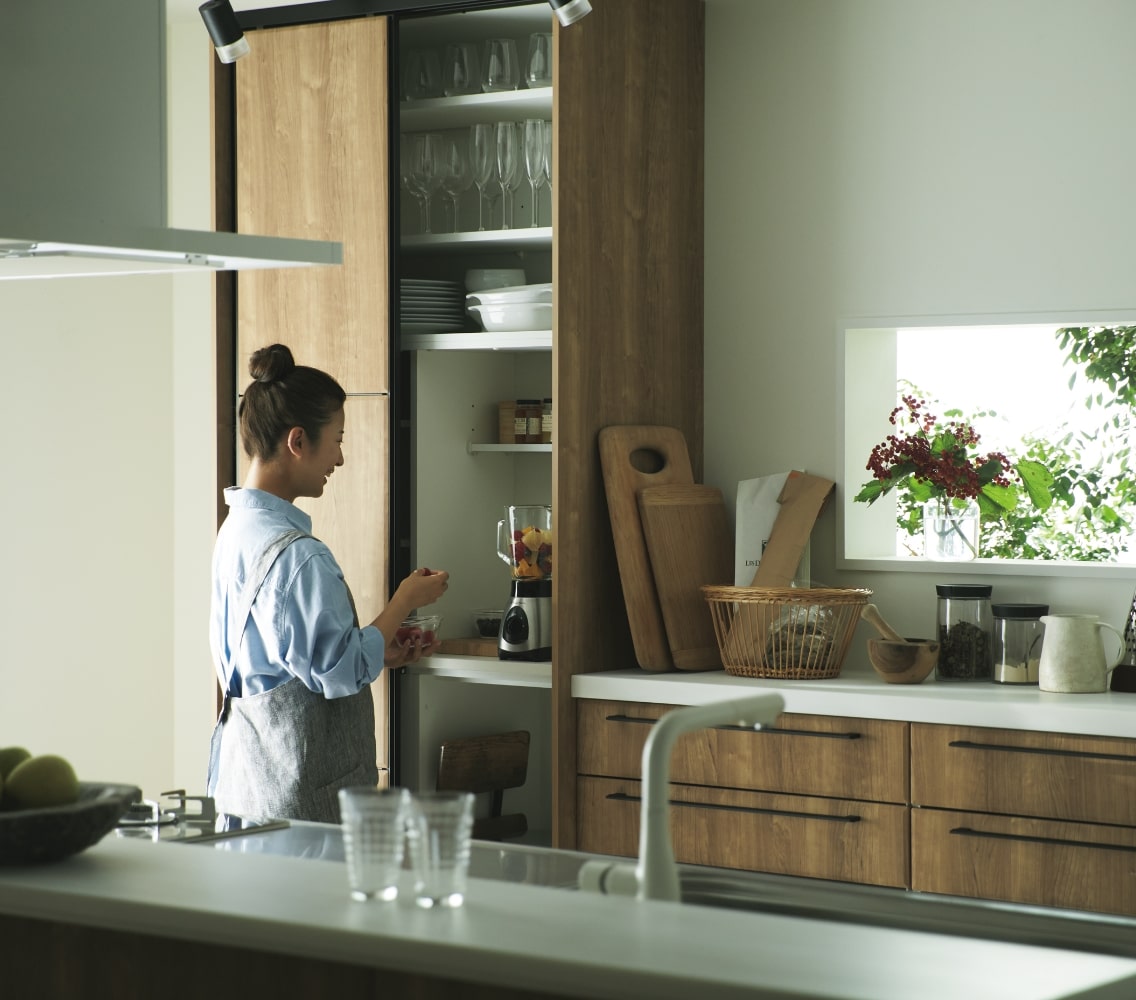 Wide selections of
STORAGE TYPES
User can choose from a wide variety of storage types that allow them to do simple cooking and hide large trash cans and stock items.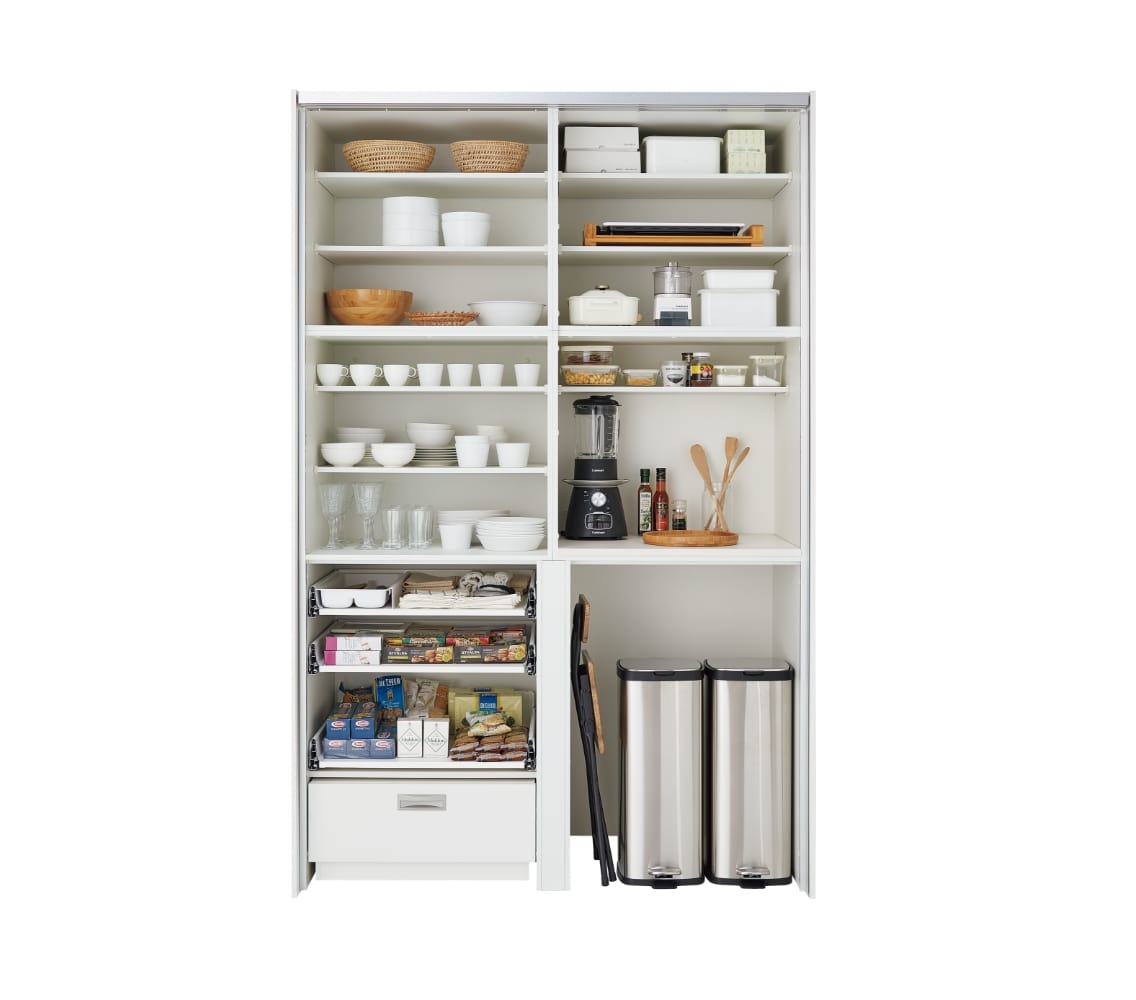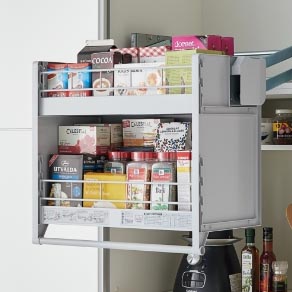 CHOICE OF UPPER STORAGE

In addition to the Shelving Type, Move -Down is available, where the shelf can be pulled down lightly for easy access when necessary.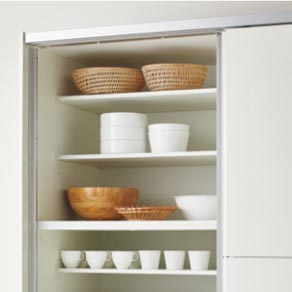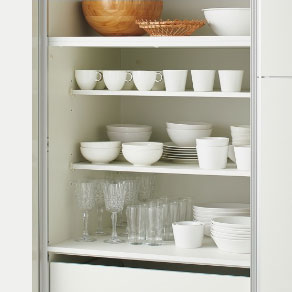 CHOICE OF middle STORAGE

The user can choose a counter a type that can hold a mixer, blender or other cooking utensils in an upright position and can also be used as a work table.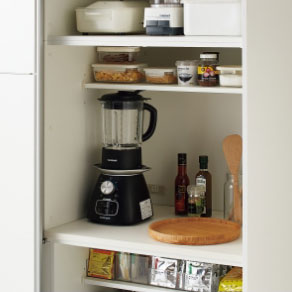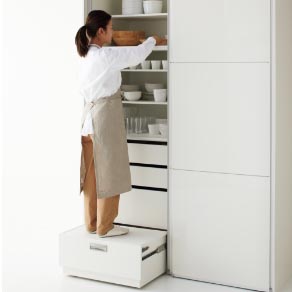 CHOICE OF LOWER STORAGE

You can choose the Step Container that can be used as a step ladder
by pulling the bottom storage container toward you, or an Opened Type that can hold commercial trash can.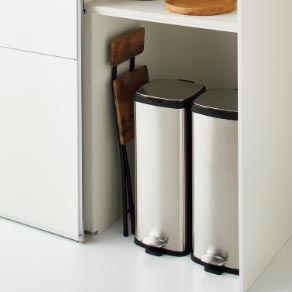 Stainless steel
eco- cabinet
The stainless steel structure resists mold and odor caused by moisture, which is usually difficult to clean.
Even the drawer base is stainless steel.
Kitchens are used for cooking every day.
Because it is difficult to clean, we have focused on stainless steel to maintain the cleanliness even on the inside.
MATERIAL SUITABLE FOR EVERY CLIMATE

In Japan where it is hot and humid in the summer, there are many environments where mold can easily grow. The inner part of the kitchen is a prime example. STEDIA's cabinets are made of stainless steel, which is resistant to mold and odor.